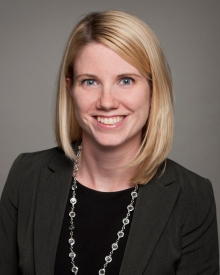 Amanda Bernier, EMBA 2017, explores the ASEAN market for her organization by leveraging the Program's Signature Series of Six Business Consulting Projects.
Amanda was looking for a program to help her continue to grow and transition into a different role within in her organization. By 2015, she had been a specializing in compliance for more than 7 years and was eager to get experience and perspective in areas of business within the organization that outside of her specialization and that would also help her engage in broader senior-level strategy discussions.
The Telfer Executive MBA's focus on leadership and consulting, through the Signature Series of Six Business Consulting Projects, provided her with the platform to move theory into practice through real-world business challenges of her clients. "I got to see how the skills could be applied right away," said Bernier, "You learn it and then you live it"
Amanda chose to leverage three of these consulting engagements to align with her goals of gaining experience in other areas within her organization and ultimately gain momentum within her career.
The Real-World Experience:
Through her Individual Business Consulting Project, Amanda completed an evaluation of the Singaporean market on behalf of her organization, the Royal Canadian Mint (RCM), during the summer between her first and second year. The research phase provided her with the opportunity to reach out and get exposure to areas of business within the RCM which she would normally not access through within her role.
Her individual project culminated by providing RCM with a marketing and operating strategy, based on her findings, which the organization could adopt. Through the process of her evaluation, she was able to confirm positive market conditions and provide meaningful strategies for her colleagues to implement in order to grow their market-share in the Asia-Pacific region. Many of these strategies were adopted as a result of her thorough analysis.
Amanda's team also chose to work with RCM as a part of their International Business Consulting Project. This opportunity moved the team through the Business Strategy Business Consulting Project, where they were able to confirm that the client's strategic objectives aligned with the opportunities in the ASEAN market. This project gave them the green light to move forward with RCM as the client for their International Business Consulting Project.
The team built upon Amanda's summer project through the final four months of the program. They conducted market research and developed recommendations about the client's objective to introduce a custom bullion product specific to the Asia-Pacific market to grow their market-share in the region.
The project culminated in late April 2017 with the team spending one week flying between Kuala Lumpur and Singapore to confirm their findings.
While in-country, they confirmed consumer preferences and buying behaviours and how RCM could focus its activities in-market to best suit current and potential buyers of their products. The report submitted to RCM provided the organization with analysis and recommendations so that they were able to make an informed decision about whether to invest in manufacturing and conclude on the viability of introducing a custom product for this region.
Career Impact:
The impact of the program on Amanda's career was quickly realized.
"The Executive MBA helped me to transition mid-program from a Compliance role to a Sales role within my business. Additionally, I have a much better perspective regarding various stakeholder interests when participating in cross-functional meetings." Said Bernier. "The program gave me exposure to an area of business that I would not have otherwise had been exposed to within my role and it has positioned me well for future growth opportunities at RCM".
Since graduating in June 2017, Amanda has received two additional job promotions. She is currently Sales Director, Bullion, Storage and Refining Solutions at the Royal Canadian Mint.