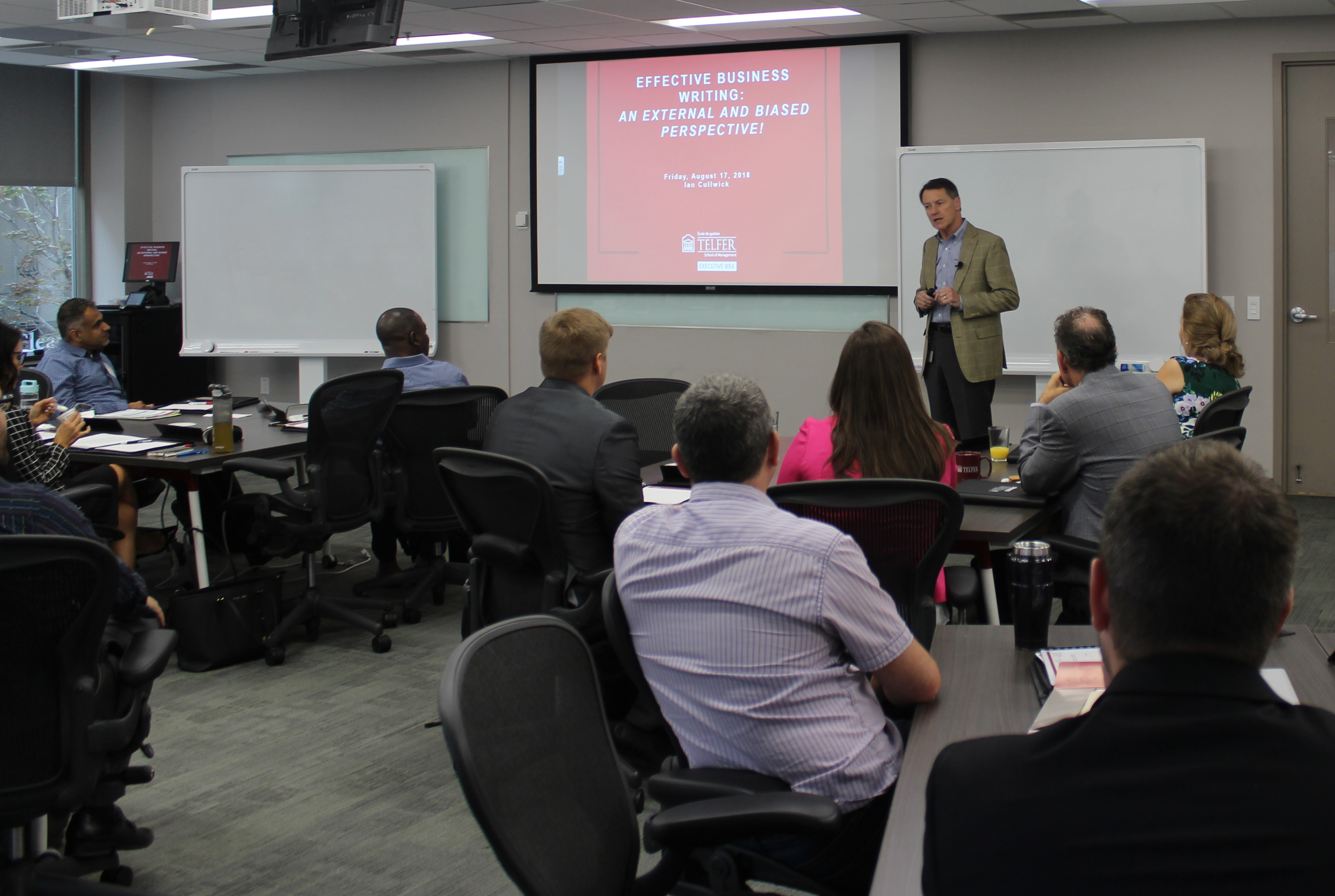 The Telfer Executive MBA's Class of 2020 came together as a cohort for the first time on Friday August 17th for their Orientation activities. This is the first Orientation session to be held at the new Centre for Executive Leadership location at 99 Bank Street.
Setting the tone
After welcoming the candidates to the program, Executive Director Sophia Leong was quick to set the tone, marking August 17th, 2018 as their first day of their 'new normal'. Leveraging the words from global leaders, Sophia talked about passion, ambition, teamwork, dreaming big and working hard. All of these traits, she explained, would be a part of their next 21 months.
The juggling act
Part of these traits is also commitment. Their commitment to the three pillars of their lives will need to be an active focus for the next 21 months; family, career and the program. It would be a juggling act that they would need to master.
After an icebreaker activity to introduce candidates to each other, Professor Miles brought the juggling metaphor to life when he pulled out a suitcase full of juggling balls. Candidates took 10 minutes to stretch, laugh and learn the fundamentals of juggling.
Who is on my team?
At 10:30 the time had come for the question that had been on everyone's mind since accepting their place in the program. "Who is on my team?" Team work is a strong component of the Telfer Executive MBA program, where teams of five to six candidates are placed into teams for the duration of the program.
The big reveal was placed in front of each of the candidates and on that sheet of paper were the names of their new community. They had heard, through speaking with alumni, that these members would be lifelong peers. They would be celebrating their successes, weathering the peaks and valleys of team work throughout the program but until this point they only knew one humorous story about their peers. Professor Miles fast-tracked the introduction phase for the newly formed teams through an exercise structured to timeline the major milestones in each persons' lives. Candidates commented that they knew more about their peers in the 1.5 hour session than they knew about most of their colleagues and some of their friends.
Dancing in your blue suede shoes
Professor Greg Smith brought a new exercise to this year's Orientation during the afternoon Myer's Briggs Type Indicator (MBTI) session. Candidates were joined by their spouses and asked to split into groups based on the output of their MBTI evaluation. They were asked to create a presentation selling a hypothetical product that they formulated. They had a set amount of time to discuss, plan and practice before presenting to the class. Teams presented humours skits highlighting the products that ranged from workout apps and blue suede shoes to fly swatters. After each presentation, an observer of the team reviewed their notes and highlighting how the MBTI preferences were prevalent in their planning phase.
Voices of Alumni
An official welcome dinner was held Friday evening at the Rideau Club where the Class of 2020 and their guest were greeted by the faculty, staff, candidates, and invited alumni with friendly faces and a great feast. They shared their meal while asking questions, passing on advice, and trading stories and information on classes. Wendell Brown, EMBA 2016, the keynote speaker for the evening provided his advice and left them with four points to think about and one analogy.
1. Contribute. You have implicitly agreed to be part of this cohort. That means you are going to share your experiences and perspectives in the class. Find your voice early in the program. It doesn't matter what your background is, you have value to bring forward. However, always be aware of the fact not to dominate the discussion, because if you do, it makes it harder for the other people to find their voice. Find the balance.
2. Collaborate. There is no gold medal for top marks. You are all going to get to that finish line; don't be competitive, be collaborative. Share your knowledge, share your information. Whenever our team had to do an assignment or a presentation, we always tried to do the very best that we could. But if one of the other teams did a better one, we took as much pride in that.
3. 'This is a Sandbox' The concept of the sandbox is a safe environment where you can go and try things. If it blows up, nobody gets hurt and you go back and try something else - you experiment a little bit. Sophia and the team are setting up a sand box for you. Use it. We all have strengths and weaknesses. Understand what your weaknesses are and look for opportunities to use those. When you have a strength, use those strengths to help other people learn and strengthen their weaknesses. Come out of the program as a more rounded individual with a skill set where you have elevated everything.
4. Support each other. Celebrate successes, collaborate, help each other out. This is your cohort, your community, your family. It's a marathon and not a sprint. Motivate each other to the finish line.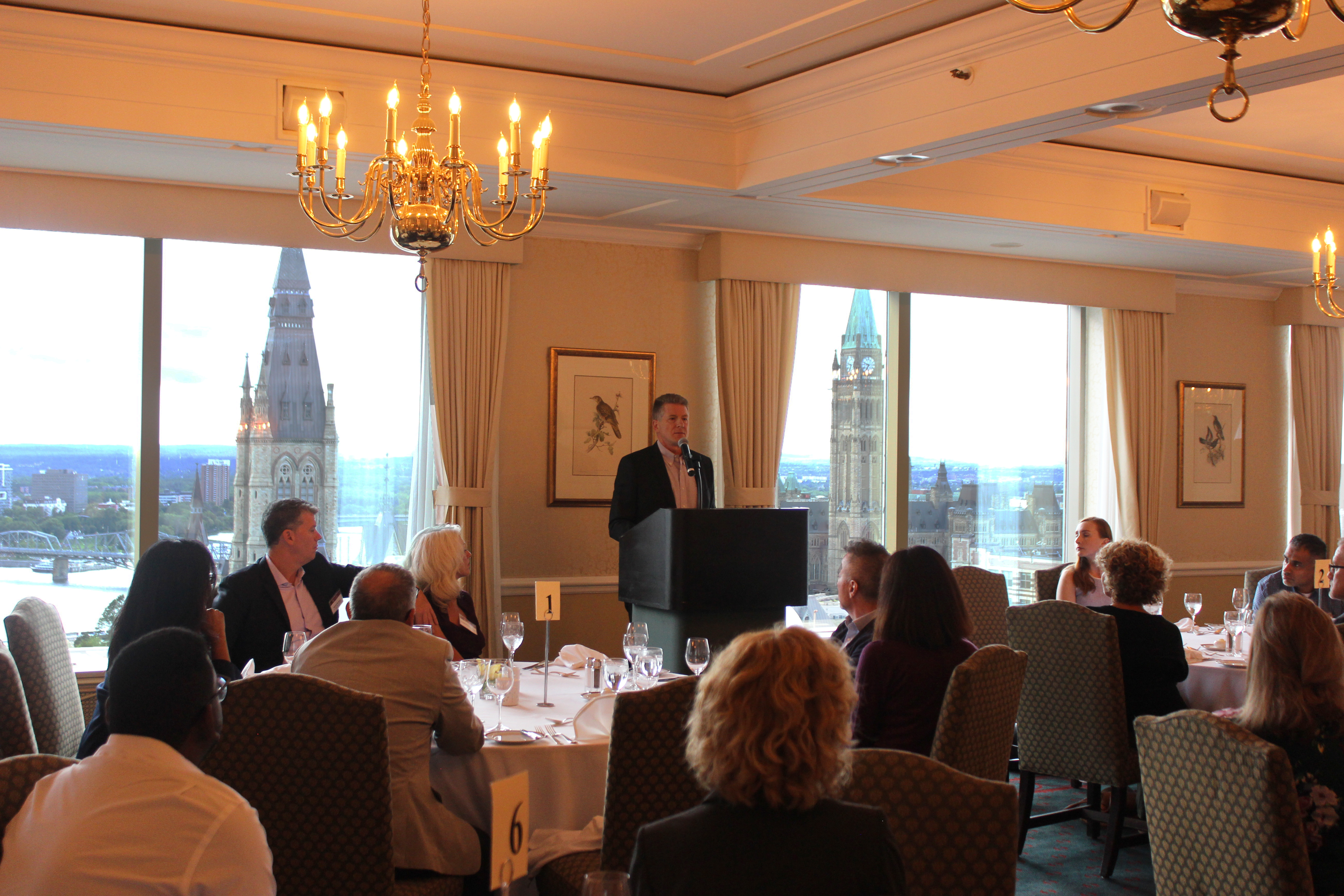 Analogy:
"You have all bought a ticket on a flight for 21 months. Consider this analogy, You are about to fly for 14 hours from Toronto to Shanghai; 1. you can sit in the economy/coach section where the seats are cramped, the food is lousy and the person beside you doesn't believe in personal hygiene or 2. you're in business class, the food is better, you have room to stretch and you have your personal space, but there's a delay in take off, oh well I'm comfy and can easily manage a delay/set-back 3. and then there's first class where you don't care if you ever get off that plane- it's a special experience, it's just incredible- you have everything you could ever need.
Day 2 of activities
Team formation exercises continued Saturday morning with Professor Miles. Candidates participated in numerous activities geared to help candidates reflect on their own learning style and how their preferences would contribute to their teams' overall performance.
The role of individual strengths in team collaboration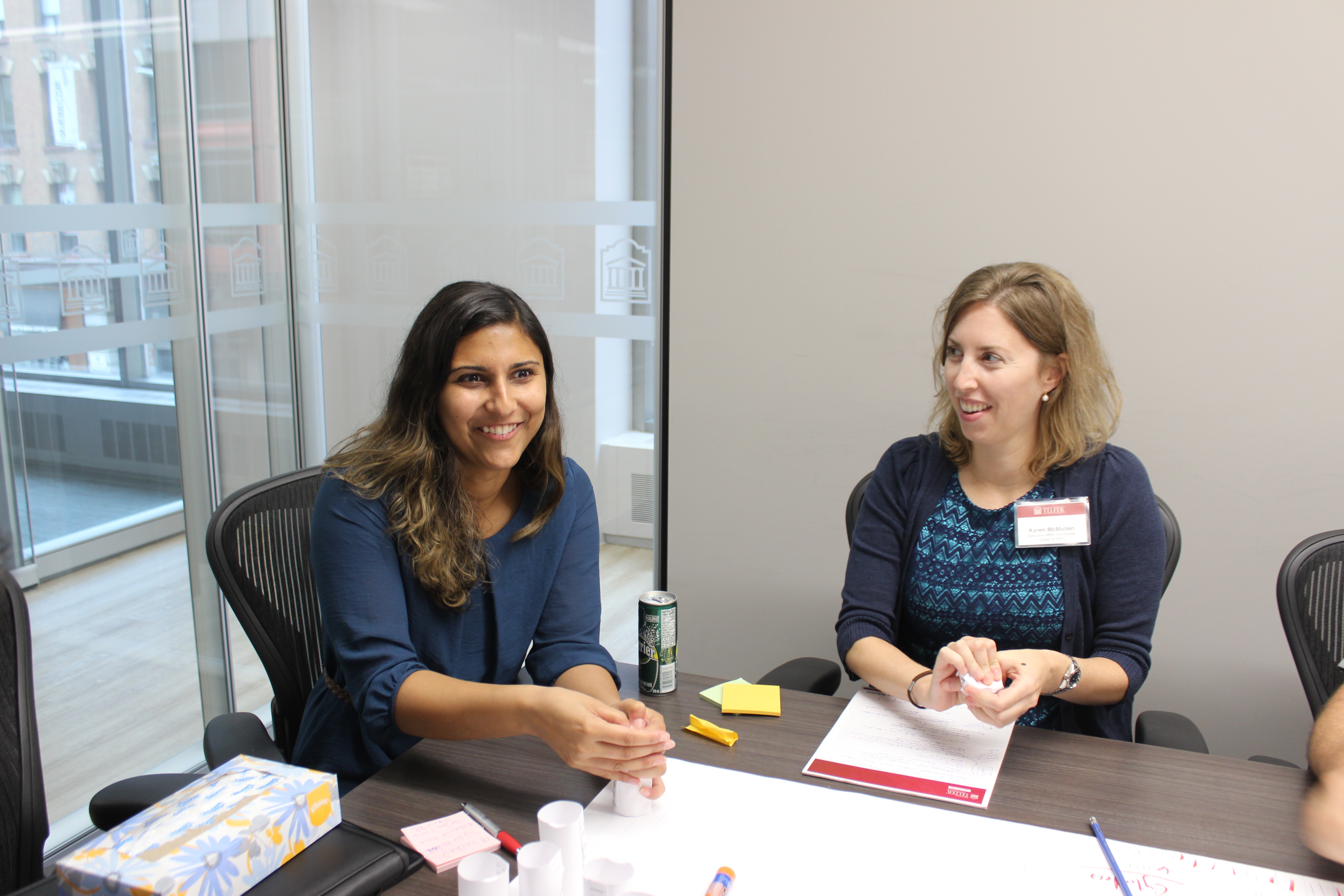 One activity that put their teams in action to see how their different styles collaborated was an exercise on tower building. Teams were provided materials to build a tower and with the criteria for evaluation then sent off in their teams to plan and execute on building the tower that would win. The competitive side of each member of the cohort came to life during this activity. Teams were on their feet for the evaluation phase, high fiving if they won in a particular category and making suggestions to Professor Miles in the evaluation process. Hugs and celebrations were had by the team who took away the top score with their tower.
The afternoon was spent learning about the case-study method with Professor Dana Hyde. The case study method is used within courses to provide the real-world dimension to a theory or discussion within the classroom. Candidates walked through the process of preparing for a case study individually, as a team and within class to learn how each level of preparation added to their learning and perspective of the case facts. It also drew out another benefit of diversified teams as individuals saw how their team members were able to provide a different perspective based on their own experiences and provided other solutions to the challenges.
Sophia closed the day with a quick review of the information they would require to prepare for their first day of class that is scheduled for Friday, September 7th. Candidates left the facility armed with exhaustive smiles from an intense two days of self-reflection and team development, along with the preparation materials for their first formal day of class.
Welcome to the Telfer Executive MBA community Class of 2020. Your journey has begun.