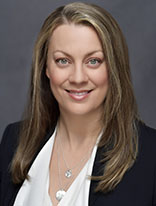 It took more than a decade of considering whether or not to return to university, but in 2014, Julie Lupinacci finally decided to take on the challenge and apply to the Telfer Executive MBA program. The experience would prove to be life-changing, both personally and professionally.
Lupinacci was attracted to the Telfer Executive MBA program's real-world application through the six business consulting projects. Recently named #1 Global Executive MBA program by CEO Magazine, Telfer's program is the only degree of its type in Ottawa that includes face-to-face classroom experience and six opportunities for working on hands-on business consulting projects with actual client organizations, two of which are international in scope and travels.
The format allowed Lupinacci to maintain her career momentum, as she was able to attend classes on alternating Fridays and Saturdays while continuing to work full-time during the week.
Interestingly enough, two weeks into the program Lupinacci learned she was pregnant with her first child.
"Life throws a lot of curveballs at you, and I really believe you're not thrown more than you can handle," said Lupinacci. "It had me working a lot smarter because I didn't have a lot of time to waste."
Becoming a mother is more than a little curveball, but committed to the Executive MBA program, Lupinacci was determined to see it through.
Her son was born two weeks after her last exam in the first year. Although she hadn't planned to have a baby while enrolled in an Executive MBA program, Lupinacci said the experience helped her discover the value of teamwork.
Learning to trust in your team, to delegate tasks and be accountable for your part of a larger whole is a fundamental part of the Telfer Executive MBA program, said Lupinacci. Teams are assigned at the start of the program and continue to work together for the duration of the program, mirroring a real-world work environment where we often don't get to choose the members of our team.
The program attracts individuals with diverse backgrounds, which is reflected in the composition of each team. Leadership skills are acquired from getting a group of diverse individuals with varying experiences and preferences to work together on common goals: namely, to become a high-performing team. The program is designed to ensure that each member is accountable to meet all program requirements while coming together to meet team objectives, and mirroring the workings of senior-level management.
"As more women climb the corporate ladder and take on roles with more responsibility it becomes an important skill set to ask for help, to rely on your team, to delegate, to know your limits, but also know you can push yourself and you can find a balance," she said.
Lupinacci said over the course of the 21-month program, candidates develop strong relationships with peers, mentors and client contacts, which proved to be game-changing for her career.
Before Lupinacci entered the program, she had been with a logistics and supply chain company for 16 years. She hoped the Executive MBA would give her the skills she needed to broaden the scope of her role within the company — which it did, landing her a promotion to the level of vice president following her graduation.
The comprehensive curriculum, focused on a global, practical and relevant practices, opened her eyes to career opportunities she had never considered before. Far from being "mommy-tracked," she discovered that pushing herself to succeed in the program with a newborn in tow sparked new ambitions.
"You get what you put into it," said Lupinacci. "If you're fully on board, if you jump in wholeheartedly and you trust the process from start to finish, you will be transformed in terms of how you look at business and how you manage relationships."
Within three years of making the decision to invest in her career by enrolling in the Telfer Executive MBA program, Lupinacci had not only completed her degree and had a baby but also launched a new career, taking on a much more senior role in a completely new industry.
Today, Lupinacci is the chief customer officer at Hydro Ottawa. She credits the Telfer Executive MBA program with giving her the confidence — and the contacts — to land the job.
"Those relationships really helped cement the change to this new position for me. The executive director was a key reference to provide insight into how I worked, and alumni here at Hydro Ottawa went through the program and were able to witness how difficult the program is," said Lupinacci. "Without the experience of going through the program and developing the skill set and character, I don't think this move would have happened."
On March 7, Lupinacci will be one of the featured speakers at a special event featuring a moderated panel of Telfer Executive MBA alumni. "Transforming Their Careers" will take place at 5:30 p.m. at the Telfer's Centre for Executive Leadership, #200-99 Bank St. For more information on the event or the Telfer Executive MBA program, visit www.telfer.uottawa.ca/emba.
This story was created by Content Works, Postmedia's commercial content division, on behalf of Telfer Executive MBA.