At 8 a.m. we were off to Berkeley SkyDeck Accelerator of the University of California where we met an enthusiastic and informed Bree Cahill, Director of Partnerships at SkyDeck. She introduced us to the SkyDeck program that was created by UC Berkeley to support innovation and start-ups affiliated with their University. SkyDeck's method combines the know-how of traditional accelerators with the access to the vast resources of the University. Since launching in 2012, they've supported 150 start-ups, known as Skyteams, through 118 advisors and 27 partners.
Bree spoke about the new SkyDeck US$24M fund that was launched last fall. The fund provides a source of investment to selected Skyteams in addition to providing necessary support and mentorship. Their recent spring cohort of 16 teams received $100,000 in investment. She introduced us to members of their recent cohort and our cohort from Telfer was quite intrigued with the program on how it can help entrepreneurs build relationships and seek assistance in funding as well as resources.
One of the projects discussed was Kiwi robotic delivery bots, an autonomous delivery infrastructure. While still in the early stage and currently focusing the delivery of food services, it is an intriguing concept with potential for a much larger application in other industries including the military. The cohort was fascinated with how they have leveraged behavioural science to increase the user interface of the robot, initially a cardboard face and upgrading to an LCD face to humanize the bots.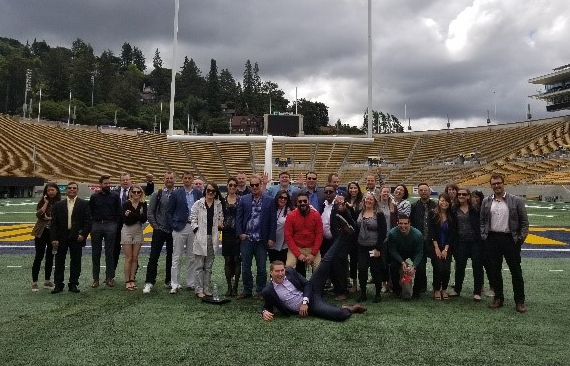 We continued our educational tour at UC Berkeley moving to the Center for Entrepreneurs. We discovered the multitude of programs available to further entrench the entrepreneurial spirit of the Valley within its students. They offer relatively short boot camp, lasting only one week, providing opportunities to test your ideas and leverage their support or even moving onto another team to help them develop ideas. For those with higher aspiration, there is a longer entrepreneurial program that is available to help an individual instill the start-up mentality and to learn the creative skill required to take their concept to the next level.
The unique location of the Center for Entrepreneurs, located within their football stadium, lead to a discussion about one of their developed projects relating to the sport. A metric glove was created so that football players can track his or her performance, enabling them to review the data and to create measurable changes to improve his or her game. This project was launched by a football player and he collaborated with his peers of technological expertise.
For those who have watched 'The Internship' starring Vince Vaughn and Owen Wilson, photos of our next visit will bring back memories. We arrived at Google Plex at Mountain View shortly after lunch to meet with Senior Director of Gmail, Kevin Smilak, and his Googler assistant. He shared his view of the culture and the rate of change that is occurring in the marketplace. We discussed the Gmail ecosystem and how Google must continually innovate or be left behind. He explained the difficulty in making changes in this evolution to the Gmail platform because it impacts 1.4 billion users and not everyone is ever completely happy with the changes. To help ease the transition, the Google Gmail group use beta environments to test the latest features through soft launch. Kevin answered many of our questions and his offer to follow up on any other questions via email, likely Gmail, was well received.
We moved through the campus tour guided by one of the Googlers. This visit showed a distinct and unique culture cultivated at Google. The main campus building even had a playground asset, The Google Slide. Unfortunately, we were not allowed to relive our childhood due to liability issues.
Throughout the tour we had a glimpse of the unique culture at Google. This included the open atmosphere generated by the TGIF Fridays where the executive team holds an open forum to discuss anything on the Googlers mind. These forums are met with great intensity and even large lineups when you think of a campus that houses 15,000+ Googlers. The added fun factor for the cohort was taking photos with the Oreo operating system Android and when visiting the Google Store.
Today set Silicon Valley apart from Ottawa. We came to appreciate the care a University within the Silicon Valley ecosystem puts into its entrepreneurship programs, their selection process and how they are now investing in each accelerator team with the creation of new funds. The uniqueness of Google's location, right down the street from Facebook, and their culture drives incredible energy and open atmosphere at their campus. One can only imagine how Google's new campus will look and feel when it opens in 2021.