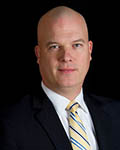 Contributing to Canadian Society
"Through the Telfer Executive MBA program, I learned 'balance' - whether it's day to day deadlines or my own behaviors and leadership styles. Organization skills top the list when I think of what it takes to be successful both in the program and in one's career journey. The MBA is a human experience – it holds up a mirror in front of you! Your strengths and weaknesses are recognized as a result of this self-reflection and through feedback from your group members. Evolving how you 'show up', how others view your actions, was critical for me. Being a type-A personality, I quickly learned that sometimes quiet reflective leadership goes a long way in achieving success"
Paul Wagner came to the Telfer Executive MBA with ten years' experience in the private sector and 6 years in the public sector. Wanting to spend less time on airplanes and more time focused on his family, Paul – originally from Montreal -attended a job fair in Ottawa in the late 90's where he was offered a position in the Federal Government working for Public Works and Government Services Canada. As his career progressed, Paul applied for and won a competition to obtain funding for Master's level education – this led to his enrolment in Telfer's Executive MBA program in 2005.
In the middle of the program, a classmate, who also worked in the public service, nudged him to interview for a more senior role at Service Canada. Initially concerned with the level of effort and chaos in taking on a new job with increasing responsibilities while going to school, he accepted the challenge and became Director General, Business Planning and Management Services. Ironically, this new role actually helped by allowing him to apply his learnings from the MBA program almost immediately within the workplace.
Eleven years after graduating, Paul continues his successful career in the public service. After working at Service Canada, he was hired as the Chief Technology Officer for Justice Canada and eventually became CIO. Paul moved from Justice Canada to become one of the first employees of Shared Services Canada where he played a pivotal role in building the relationships between SSC and its partners. Following that he was recruited for the role of CIO with Library and Archives Canada. Presently the CIO of the National Research Council (NRC), Paul and his team have a long list of responsibilities including IT services (desk tops, mobile devices) for the department, supporting researchers with the technology and information resources they require to do their jobs, managing corporate data and data assets as well as managing/coordinating the research data and publications that come out of that. Finally, his team is responsible for the National Science Library – managing the physical and online resources that researchers can access.
"Every CIO carves out their niche on how to support their organization. Right now I'm focused on establishing the technology platforms for researchers at NRC so they can focus on their research. This is different from other departments I've worked in where delivering citizen-facing services are driving the agenda. Researchers at NRC are working on some challenging problems and they need leading edge technologies to support them."
Telfer Executive MBA program encouraged Paul to network and engage with people and he found this helpful because his professional career relies on him being able to build relationships to deliver his vision. "As a CIO, there is a lot of interacting and building of relationships with internal and external clients. The concept of networking in the program is huge. I am confident that I could call any of my classmates or professors today and they would be willing to help me."