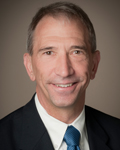 Kulka, Terrence
Executive in Residence
B.A., Aquinas College, Grand Rapids, Michigan; M.A. and Ph.D, McGill University
Location

DMS 5128

Telephone

613-562-5800 x 7665

Email

This email address is being protected from spambots. You need JavaScript enabled to view it.
Terrence B. Kulka is an Adjunct Professor and teaches graduate courses in the MBA program.
Prior to joining the Telfer School of Management in 2004, Terry spent 28 years in the telecom and technology sectors. He has held senior positions at iMPath Networks in Ottawa (2000-2004) and Kasten Chase Applied Research in Toronto (1994-2000).

Terry began his career with Bell Canada in 1976 and spent over 18 years with Bell Canada and Stentor Resource Centre Inc. (SRCI). While at SRCI, he was Managing Director, Program Planning and Management and later Managing Director, Marketing Information. At Bell Canada, he worked in the National Systems Group, Marketing and Development, and Regulatory Matters.
Terry serves on the Board of Directors of Covington Fund II and Covington Strategic Capital Fund, two labour-sponsored investment funds.