Glen Bailey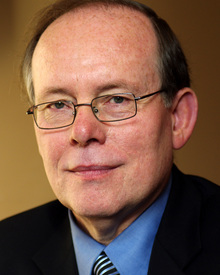 Executive in Residence
Executive Programs
Location

99 Bank St., Suite 200

Telephone

613-796-5866
Email

This email address is being protected from spambots. You need JavaScript enabled to view it.
---
From August 2007 until April 2012 Glen Bailey was the Director of Executive Programs at the Telfer School of Management at the University of Ottawa. As Director he led a rapid expansion of executive leadership programs with public and private sector clients. Areas of expertise for the Centre include governance, leadership development, performance management, leading change and coaching. Mr. Bailey had joined the University of Ottawa in 2006 as a Research Fellow working with Dr David Zussman, the Jarislowsky Chair in Public Sector Management. In April 2012 he became an Executive in Residence to focus on leadership development and governance for public sector and healthcare organizations.
Glen Bailey was a member of Canada's federal Public Service for more than thirty years gaining extensive experience in international affairs and foreign policy, aboriginal economic development, refugee determination, acquisition programs and human resources.
As a Foreign Service officer with the Department of Foreign Affairs and International Trade, he worked in international finance, development and economic policy, Africa and the Americas. He was posted to Ethiopia, Cameroon, United Kingdom and Chile. He was also Director for US Relations where he led preparations for visits of President Clinton and PM Chrétien, and developed innovative programs for public advocacy.
In 1997, he was selected for the Accelerated Executive Development Program, which led to an assignment with Indian and Northern Affairs to renew Aboriginal economic development programs and then led policy and case management for the Immigration and Refugee Board in a period of legislative change. In 2003 he joined Public Works and Government Services Canada as Assistant Deputy Minister where he led a review of acquisition policies and processes.
In September 2004 he joined the Public Service Human Resources Management Agency of Canada as the Vice-President for HR Planning, Accountability and Diversity. He also led the 2005 Public Service Employee Survey, demographic studies of the workforce, people management and promoting diversity in the Public Service.
Mr. Bailey also served on the Committee for Supervision of the General Secretary of the United Church of Canada from 2003 to 2009. In 2001 and 2005 he led the Government of Canada Workplace Charitable Campaigns for the Immigration and Refugee Board and the Public Service Human Resource Management Agency of Canada.
Mr. Bailey has published a monograph on the Ethiopian Revolution (1981) and articles on Public Diplomacy in Chile (1995), Re-engineering the Foreign Service (1996) and Employees Want Renewal (2007).